I'm so behind on blogging, but I have been keeping up with everything on my app Photo 365. Love that app! I'm able to take a photo everyday & do a little journaling about what went on that day. I took this photo of the app on my iPhone. Not sure why it is sideways. Just turn your head ;)
A lot has happened since Thanksgiving...
We put up & decorated our tree.
Haddie Jane turned 3 months old.
I love her sweet, easy going personality. She sleeps 8-10 hours every night. She laughs a lot & loves when we talk to her. If we are talking to her, she is smiling. She is a great eater. She still spits up, but it seems to be getting better. She wears size 3-6 month clothes & size 2 diapers. Love you so much HJ!
I have to share this sweet little thing Lyla did. Again, I love this app because without it I would have already forgotten. Lyla was playing hide & go seek with herself & she kept yelling to us, "You'll never see me again. 1,2,3,4,5. Here I not. Here I come". Here she is hiding ;)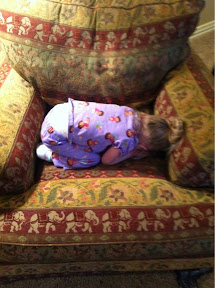 Posted using BlogPress from my iPhone