Our elf, Criddle has been so much more fun this year. He has been surprising our kids by doing silly things around our house.
We first found him in our fridge. He had turned our milk green! Lyla especially loved drinking green milk that day.
We caught him fishing out goldfish crackers using Lyla's tiny petshop fishing pole.
Criddle got a little cold.
He must love Legos like Caleb & Gavin. He took these from their Lego advent calendar.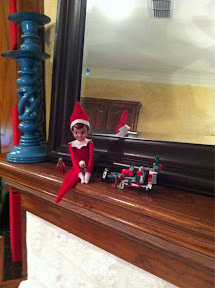 Criddle found everyone's underwear & diapers & hung them on the stocking holders.
We were left a message in post it notes one morning.
It has been lots of fun this year & again a great reason to get those sleepy kids up in the mornings! ;)
- Posted using BlogPress from my iPhone